September 2014 AKCPA Newsletter
September 2, 2014
President's message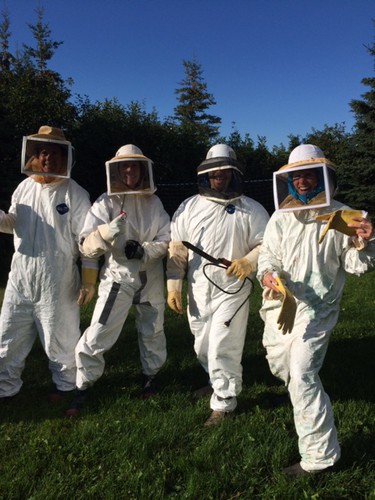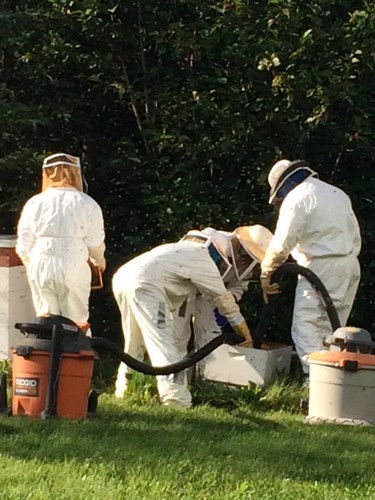 Lance Bodeen, CPA
Have you ever thought, I want to be a beekeeper?

 
I would never consider myself a beekeeper, but there I am on Friday, August 29th bringing my kids into Anchorage to check the hive and see how much honey the "worker bees" provided for my family.  It was time to vacuum all the bees up for the winter and remove the honey. 
I am not a very big fan of bees and for that matter thousands upon thousands of bees.  This was our first time attempting to collect honey and I had heard a few fun stories of getting stung multiple multiple times.  Of course, when our friends said that I should run the vacuum and stand right over the top of the bees, there were a few times that buying honey at the State Fair would be so much easier.  I did it and zero stings later, I knew that I would be doing this again next year.
Of course, when you get a chance to see the combs, the fantastic honey and the amount of effort the bees had put in, it was a very rewarding experience. 
I believe that the Bodeen family will now be beekeepers for years to come.
Side Note:  If anyone decides to put a Beard of Bees on their face as the new and improved facial hair, I would be very interested to see some "selfies" and share with our fellow members.  I am a self-proclaimed chicken and will stick with the goatee.
As fall is here and tax deadlines loom, the time to finalize 2013 and move into 2014 is here.   It would appear that we live our lives in a rear view mirror, taking care of yesterday and then planning/educating ourselves for the next round of financial statements and tax returns to be completed.
The CPE Committee has put together a great schedule of education opportunities to assist in our 2014 education.  The CPE Committee is aware of how valuable your time is and the fact that technology is moving us away from classroom continuing education.  The class schedule is now condensed to education topics that relate to your current concerns as practicing CPAs and in timeframes that can fit into your schedule.  There are still the 8 hour CPE courses, but you will also find many opportunities to take 4 hour courses, in order for you to meet the needs in your office as well.
In addition, the Society has partnered with CPE vendors from ACPEN, CalCPA, CPA Crossings and Surgent McCoy, LLC and many other vendors to ensure that you are able to take online courses that will allow you to find topics that are concerns for you and your Firms.  As I know, with 2 kids heavily into activities, the convenience of education is necessary.
If you do choose topics that are online, please do not hesitate to go to http://www.akcpa.org/cpe/ and click for your vendor offering.  As a partner, the Alaska Society does receive a portion of the fee. 
If you do have topics that you feel are pertinent to your Firm and to other CPAs, please bring these up.  The CPE Committee is always looking to provide continuing education that will be well attended and to identify issues CPAs are currently facing in your practice.
Since we are talking CPE, I do not know how many of you are using the CPE Tracker, but it is a fantastic tool to keep track of the CPE hours you have received.   Once you login, you will see the  my CPE Tracker tool.  I was one of the chosen ones for audit this year by the State and used this tool to help identify (remember) the courses I took.    It is amazing how much you can forget in two years.
AKCPA LinkedIn
As a convenient way to stay connected and to communicate, the Society has now started a group on LinkedIn (https://www.linkedin.com/groups?gid=6561753).  Please join.  You will now be able to openly banter with your fellow CPAs as well as quickly ask questions for your fellow CPAs to answer.  This will be a great source for information for updated happenings with the AKCPA.  Thank you to Errol Russell for setting up this great tool.
Well, September is now here and it is back to work.  Please have a fantastic month and know that my candle will be burning as bright as yours until I go try to find Bullwinkle.
AKCPA LinkedIn
Need more information ...... Click on the link below for a quick walkthrough on how to join the AKCPA LinkedIn discussion group (and/or subgroups.)
http://www.akcpa.org/writable/news/access_linkedin_tutorial.pdf
Mark Your Calendar!
The Alaska Tax Practitioner Symposium this fall in Anchorage will be held on November 7 at the Loussac library.  More details will be sent in early September. 
  

ESOPs and Valuations: Increasing Risks for Valuation Firms, IQPAs and Trustees 
Hawaii Tax Institute
Nov 3 - 6 in Honolulu. The program can be found at www.hitaxinstitute.org  
The speakers are nationally renown, the cost is only $850 if registered prior to October 10, and includes up to 40 hours of continuing education credits and some meals. If you mention Stephen Greer as the referral source you will receive an additional 25% discount.
Contact Steve at steve@stephengreerlaw.com amd he will give you the code to enter in the registration form.
 Stephen E. Greer, Esq.
(907) 561-5520 work
(907) 563-5020 fax
Stephen Greer steve@stephengreerlaw.com
 Save the date!
Alaska Specific Ethics -- December 5, 2014 Webcast - Registration information coming soon.