December 2014 AKCPA Newsletter
December 1, 2014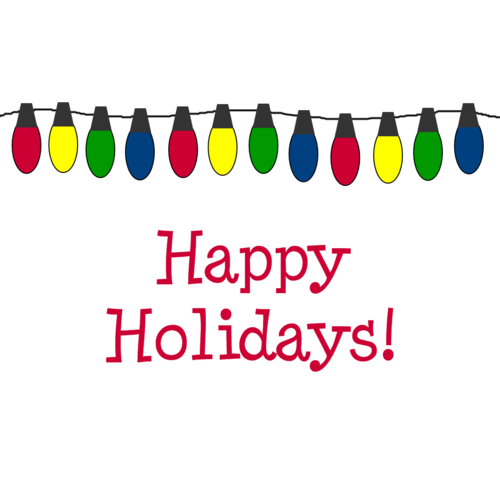 President's Message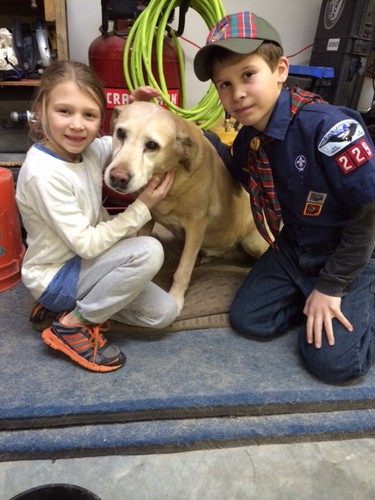 Ramsey and Lauren with our 13 ½ Year Old Yellow Lab, Cooper.
December Already?
It is crazy to think of where 2014 has gone. 
It has been a busy year for the Alaska Society.    The Society has tackled tough legislative issues facing our profession, successfully completed its first Leadership Academy, provided its members with some great CPE, and had a fantastic 60th Anniversary Annual Meeting.  What a year. 
Thank you to all those who have volunteered their time to contribute to the Society.  I understand there are other ways to utilize your time and am thankful for you.
One of the individuals that contributes her time and energy to the Alaska Society is our Executive Director, Linda Plimpton.  The Board formed a successor committee to identify a transition process for when the time came that Linda wanted to retire that a new executive director could be found.  Linda informed the committee that she is retiring at the end of our fiscal year (April 30th, 2015) and the time is now to find a new executive director.
The committee identified that by March 1st the new executive director will need to be in place. I am asking for names of quality candidates that are looking for a flexible work environment that either are CPAs, have worked in a CPA Firm and understand the nature of the Industry, or have worked in a nonprofit and would demonstrate the skillset involved in running the Society. 
We are very close to the busiest time of year and need to have candidates to interview.   Linda has given us the lead time to make sure that this can happen. A March 1st start date gives a nice transition overlap for the new executive director and for Linda.
Linda, I would like to thank you so very much for your service to the Society and its members.  The Society has thrived under your leadership and continues to operate as the only State Society represented at the AICPA with One Employee.  Linda, I am thankful for all you have done and continue to do.  Thank you.
LEGISLATIVE COMMITTEE
The Legislative Committee met after the State of Alaska Board of Public Accountancy (BOPA) meeting on November 14th.  The Society resolutions were passed on to the BOPA as noted in last month's article. The Society is on its final task for the BOPA to provide recommendations on moving closer to the Uniform Accountancy Act (UAA) and increasing our mobility in practicing public accounting in this State. 
NASBA was asked by the BOPA to provide guidance on the differences in Alaska's Statutes and Regulations and the Uniform Accountancy Act.  NASBA lined out the differences for the BOPA.  The BOPA reviewed the differences and it was brought to the Legislative Committee to assist with the task.
There is no final status yet with this task and future newsletters will address the progress.
The Society does not currently have a lobbyist.  If you have any recommendations that you could pass onto the Society and to Linda, please do so.  We typically have a lobbyist that we contract with to help champion any legislation and to assist with watching for any legislation that may impact our profession. 
ANNUAL MEETING
Please keep your calendar free for May 28th and 29th.  The annual meeting will be held in Anchorage this year.  More details to come.
I want to wish all of our Members a safe and happy holiday season.  It is a great time of year for family, food, fun and memories.  All the best to you are yours.  Thank you for a wonderful 2014.
Seeking a New Executive Director
Alaska Society of CPAs (AKCPAs) is seeking an Executive Director with a proven track record of leadership and understanding of the CPA profession to join the team.
The successful candidate will have the skills, knowledge and experience both to work independently and collaborate with a team of professionals.
Under the direction of the Board, the Executive Director will have the primary duties and responsibilities as follows:
Responsible for the administration of Board policy.
Plan and coordinate regular and special Board meetings.
Arrange sites for Board meetings, public hearings, disciplinary hearings, and CPE seminars.
Contact discussion leaders and schedule continuing education seminars;
Provide necessary support to various committees or task force members;
Consult with other professionals, other state accountancy boards and State and National Agencies to keep the Board informed of current trends and issues.
Participate in conferences and other activities relating to professional training, licensure, or practice.
Job Knowledge, Skills and Abilities
Written and oral communication skills, including the ability to speak on accounting and other professional issues;
Thorough understanding of the accounting profession;
Proficient in use of information technology;
Ability to read, analyze, and interpret legal, financial and other documents pertinent to the Society.
Ability to interact and represent the Society professionally with members, governmental bodies, organizations, and associations at the local, regional, state, and national levels;
Education and/or experience related to the accounting profession preferred.
Compensation
Flexible work hours – PT or FT.  Competitive salary DOE, and benefits available.    AKCPA is an equal opportunity employer.
Additional Information
All qualified applicants will be considered, but may not necessarily receive an interview. Selected applicants will be contacted by a hiring agency for next steps in the selection process. Applicants who are not selected will not receive notification.
This position is available immediately.  Please reply to:  info@rulien.com .
Report from AICPA
Fall Meeting of Council
By John Rodgers, CPA
As usual this year's trip to represent Alaska at the AICPA Fall Meeting of Council in Boston on October 19th, provided some great discussions impacting our industry including standards, CPE Peer Review, and the CPA Exam.  In a word….CHANGE! 
The definition of change – to make the form, nature, content, future course, etc. different from what it is or from what it would be if left alone.  My fellow CPA's, nothing is being left alone!
Normally right after the administration items we begin with AICPA President Barry Melancon and his report.  This meeting began with Warren Allen, President of the International Federation of Accountants (IFAC). Warren's emphasis was clearly focused on the promotion of standards throughout our global economies.  Obviously the global economy is becoming more and more inner twined.  Therefore since the global economy is changing so should the standards.    Warren also had a concern for the global crisis looming in certain countries and its effect on standards. This included the US debt, the recession in Germany, Argentina, and the Middle East.
Next up was Sue Coffey our next Chairman of the Board to present an update on the   Profession's commitment to quality including a discussion on the Code of Conduct Amendment for the Definition of Attest.
Currently the emerging issues / trends in the profession regarding the Attest areas are: an increase in complexity in business and standards, an increasing pace of change, a need for higher audit relevance, improved peer review and inspection results, and increased regulatory scrutiny.  In the near term we will see an effort to strengthen the existing peer review process. A revisit of professional standards, creation of additional guidance, tools learning and resources, and a reinforcement of professional ethics.  There is a discussion paper on this area asking for input from the membership. 
Barry Melancon's presentation was as always very informative.  He led in with a demonstration of 3D printing and gave a small printed token gift from the 3D printer to the AICPA's 400,000 member!
Barry then proceeded with the profession's landscape. Technology use is up and not only for the internet.  Mobil usage is up 30% since 2010 with desktop usage only up 7%.  The major concerns of young CPAs are a work life balance and a flexible workplace.  Retention is becoming an industry challenge along with a gap in leadership and skills.
Businesses now more than ever need to be nimble.  The new word to use is "Nimbleocity". Defined as requiring talent, culture, discipline and execution. 
Some other items of interest:
40% of firms have implemented performance measures that are not based on time.
40% no Saturdays
79% of the millenniums say the work environment is more important than salary
88% preference for collaboration over competition
72 % would prefer to be their own boss but almost 80 % want to be coached.
He finished with the following other technology items:
Expect by 2025 a virtually driverless truck made by Mercedes
He presented the new Google classes which will take a hands free photo, upload weather,    and give directions.
A technology based road with changing lanes and no salt or snow plowing.
Uber is going to change the taxi cab business, a driverless cab will show up.

 
Another item of importance is the redesign or change of the CPA Exam.  The changes under consideration are as follows:
Should the Exam content increase its focus on simulations & higher-order skills?
Does the Exam need to reflect real-life practice?
Should the use interface be updated?
Should the exam test the integration of auditing and the business environment?
The timeline for the changes are: to explore and confirm by 2014, exposure draft in 2015, announce a new version of CPA Exam 2016, actually launch this new version 2017.
Lastly the Future of Learning.  All I will say on this is to take a look on the internet at Sal Kahn and the Kahn Academy.  Our future CPE will probably look something like this.
In summary, the CPA exam is going to change, CPE is going to change and peer review is going to change.   If you have any questions or would like more information, please contact me.  Thank you for the privilege to represent you at Council.
Best regards,
John Rodgers, CPA
AICPA Alaska Council Member
Advocacy- KEY PERSON PROGRAM
The accounting profession in Alaska is represented on the legislative front by grassroots volunteers on the state and national level. Alaska Society of CPA members, who know his or her state representatives or senators can best inform legislators of the issues facing the profession. Advocacy, on behalf of member CPAs, is an important aspect of AKCPA membership.
For a list of legislators please contact http://w3.legis.state.ak.us/

AKCPA Key Person Program
Do you know your federal or state legislators–even casually? Your relationship with your legislator can make a difference in ensuring a bright future for the profession and protecting the public interest. Sign up today to participate in the Key Person Program.
The Key Person Program is an important tool used by the legislative committee to improve relations with local legislator and to develop a grassroots involvement. If you know any legislator as a personal friend, acquaintance or contributor and are willing to serve as a key person contact, please complete the form and return it to the Society office.
AKCPA Key Person Program Application.
For More information contact The Alaska State Legislature. http://w3.legis.state.ak.us/
LEARN ALL ABOUT STATE TAX LAWS!
Wolters Kluwer, CCH's State Tax Handbook, 2015, the perfect quick-answer tool for tax practitioners and business professionals who work with multiple state jurisdictions, provides an overview of the taxation scheme of each state and the District of Columbia.
Ordering Information
 Members receive a 25% discount on all CCH tax and accounting titles, unless otherwise stated. This discount is only available on orders place through the CCH online store with your Association discount priority code.
Your priority code automatically applies your discount in the shopping cart. For your reference, your priority code is Y5326.
Your member discount applies to the single-copy list price for CCH books; it can't be combined with other discounts, bundles or quantity offers.
Member discount prices do not apply to standing orders. Make sure the standing order box is unchecked before finalizing order.