February 2015 AKCPA Newsletter
February 6, 2015
President's Message
Lance Bodeen, CPA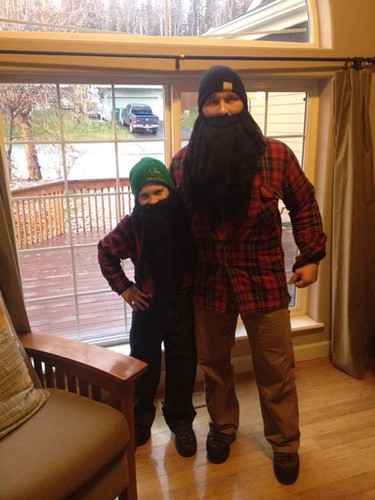 FEBRUARY IS HERE.
It is February 2015.  While I would like my beard to look like this, my hair follicles have yet to produce.  It will have to wait to May as I do not have the time to really give the attention that my beard deserves.  In May, I will seek advice on beards.net to grow the thicker, longer beard. I must admit that I do like the look of the fake beard as my son and I should be chopping down some trees and hauling a few logs out of the woods. 
Now that it is February, I am getting the urge to plant the gluteus maximus into a chair for the next seventy-five days.  Seventy-five days; I have many thoughts as I see this number, but in reality, I know that April will be here in a flash and time for spring breakup and then summer to start.
The Affordable Care Act is now in full swing and everyone has had to learn what a Forms 1095-A, 1095-B, and 1095-C forms are as well as the 8962 and 8965 tax forms.  Filing an individual tax return has never had so many questions to answer.
In addition, now that 2015 is here, we are playing with new SSARS that have changed the framework of performing Review and Compilation engagements. 
We are in a changing time and continuing education has never been so important.
The CPE Catalog for 2015 is on the AKCPA.org website; many thanks to those on the CPE committee for organizing the courses.  We are in a renewal year and I would suggest that you look hard at taking some live continuing education courses for 2015.  It is a very important time to be up-to-date as this is setup to be another year of change.
EXECUTIVE DIRECTOR
We have awesome news from this front.  Crista Burson is our new Executive Director for the Alaska Society of CPAs; she will take over Linda's leadership role after Linda retires in April 2015.  Crista will work with Linda to provide a nice transition in leadership.  Crista has a degree in accounting and has worked in the nonprofit environment as a parish administrator for All Saints' Episcopal Church in Anchorage since 2002.  Crista is the daughter of Carol L. Batson, CPA; many of you may know Carol.
It is fantastic for the Alaska Society to have an Executive Director with experience in both accounting and nonprofit administration.  I believe that we have found a great individual who will be with us for a long time. 
I want to thank all the committee members who helped in this executive director search process.  There were many hours involved and good candidates to review.  Thank you so much for your time.
LEADERSHIP ACADEMY
This is just a reminder that the Alaska Society is launching its 2nd Alaska Leadership Academy in the Fall of 2015.  The first Leadership Academy was an amazing success and the talent that went through was fantastic.  I have heard nothing but glowing feedback from the participants and its leaders.  Please recommend your Emerging CPA star for the Leadership Academy.  The application period is now open and applications will be accepted until March 1st, 2015.  Please contact Amy Cooper at akcooper@alaska.edu for more information.
FINAL THOUGHTS FOR FEBRUARY
Pete Carroll what were you thinking; feed the BEAST.   You are 1 yard away; do not out think the Stadium.  You got to stay Tried and True (which is Beast Mode) for the Green and Blue. It was a horrible way to lose the Super Bowl. I guess we now understand how Green Bay fans feel as they watched the ball bounce the wrong way in the NFC Championship.
While I have been enjoying the low gas prices these days to fill my vehicle, it is definitely concerning on how we as a State will be able to budget in the current economic conditions.  I must admit that I have not paid as much attention in the past as I have now based on the fact that the price for oil is half of what we need to run this State.  I really hope that Governor Walker leads us in a positive direction to provide the necessary fortitude to overcome this challenge.  There may be drastic changes needed and unfortunately/fortunately for us, our clients and the public will have questions that we will need to answer.  Again, how important is education these days.  Very important.
On a positive note, we have had a fantastic year at the AKCPA.  I would again like to thank Linda for her leadership and dedication to us.  It has been truly a gift to have her at the Society. 
Have a great February and talk again in March.
Lance
2015-2016 Election Results
Congratulations to the new and continuing Board members
Election results:
 

Rebecca Martin, President-elect

Jason Bontrager, Treasurer
Kara Moore, Secretary
Kristine Kennedy, Director
Therese Sharp, Director
Stasia Straley, Director
 Continuing their terms:
Josh McIntyre, President

Lance Bodeen, Past President
Irina Morozova, Director
Steven Pence, Director
Lisa Turner, Director
Also, congratulations to Lance Bodeen who was elected to serve as a director of the Hagelbarger Memorial Scholarship Fund. 
2015 CPE Catalog
The 2015 CPE Catalog is now available on line at http://www.akcpa.org/cpe/catalog.  If you would like to have a printed copy you can download the pdf file under the NEWS section on the home page of the website or click on the link: http://www.akcpa.org/writable/news/2015_cpe_catalog.pdf
CPE Value Options available to members of the AKCPA.  Season Pass for Indiviuals or Season Tickets for Firms.  Check it out at:  http://www.akcpa.org/cpe/value_options
Nominations for Public Service and Distinguished Service Award
 

PUBLIC SERVICE AWARD
The Alaska Society of Certified Public Accountants is looking for nominations for the Public Service Award.  We are looking for individuals who have an on-going commitment of service to the community.  They must hold CPA certificates in good standing and be members of both the Alaska Society and the American Institute of CPAs. The Board of Directors will consider candidates who meet the following criteria:
          Participate in community, charitable or other civic activities on an 

on-going basis 

or

          Have taken responsibility for a public service project which had a significant positive impact on the community 

or

          Have serviced in a notable volunteer capacity in government at the local, state or national level 

or

         Have written articles which have encouraged participation in and/or                 implementation of community projects 

or

         Have served in an outstanding manner as an appointed or elected official at  the local, state or national level
ALASKA SOCIETY OF CPAs JAY A. OFSTHUN DISTINGUISHED SERVICE AWARD
Periodically, the Alaska Society of CPAs honors a member who has served the accounting profession with distinction.  The award is presented at the Annual Meeting.
The purpose of the award is to recognize a members dedicated, long, meritorious and/or special service to the Society.
In evaluating nominations, the Alaska Society Board of Directors will consider nominee's accomplishments in the following areas: 
 

Service to the Alaska Society of CPAs as an officer,

 Board member, committee member, legislative spokesperson, 

CPE instructor

as well as other types of activities that 

enhance the profession's stature.

Service to the AICPA or other national organizations 

that directly influence the accounting profession.
In evaluating these areas of service, the Board will consider the length of time over which the member has demonstrated a commitment to the profession, as well as to the number of different activities which suggest the level of commitment.  
Nomination forms are located on the homepage of the society website under the NEWS section.  
Notice to KPMG Alumni –
KPMG's Anchorage office will be hosting an Alumni event later this year and requests that KPMG alumni provide current contact information to kathleenwalker@kpmg.com to ensure receipt of the event announcement.  Alumni are also encouraged to pass this request on to any former KPMG employee of the Anchorage office or currently living in Alaska.
IRS Webinar - Tips vs. Service Charges 
Find out during this FREE one-hour webinar…
Topic: Tips vs. Service Charges: What are they and how are they reported?
Date:  Wednesday, February 11, 2015
Time:  11:00 a.m. (Pacific); Noon (Mountain); 1:00 p.m. (Central); 2:00 p.m. (Eastern)
Highlights of What's Covered:
Tips – Employee and Employer Responsibilities
Tips vs. Service Charges
Revenue Ruling 2012-18
Form 8027 – Employer's Annual Information Return of Tip Income & Allocated Tips
Additional Medicare Tax on Tips
Plus a live Q&A session
CPE:  Earn One CE Credit – Category: Federal Tax
PTIN Holders: In order to get your CE reported to the IRS, ensure that your first name, last name and PTIN match your account.
Your PTIN must begin with the letter P followed by 8 numeric characters. If your name and PTIN are incorrectly entered, you may still receive a certificate but your credit will not be reported to the IRS.
Information & Registration:  
 Click on the following link to register: 
http://www.visualwebcaster.com/event.asp?id=101225
New Tax Proposals from State of the Union - Short video from Surgent McCoy
Earlier this week, the President outlined new tax proposals in the State of the Union address. Mike Tucker has recapped these items in a short video ideal for you to share with your members.