September 2015 AKCPA Newsletter
September 2, 2015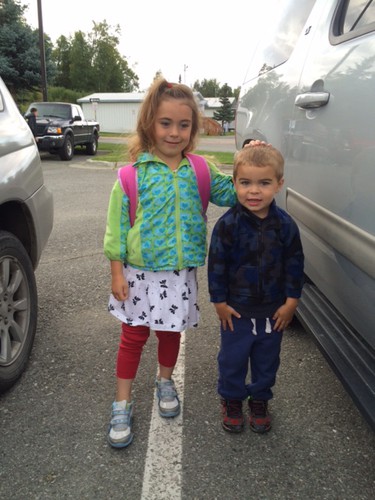 Natalie and Charles McIntyre getting ready to part ways on the first day of school.
President's Message
SEPTEMBER 2015
It is hard to believe that September is already here. Kids are back in school, it is actually dark outside at night, and for CPAs who work in tax this is the final push of the year to finish all of the tax returns that were extended back in March and April. The past several weeks have had a number of firsts for my family. My daughter started kindergarten, my son started pre-school, and I also started a new job in a newly created position. If you read my previous columns and heard me speak at the annual meeting you might be scratching your head wondering what is going on. I can tell you that prior to the offer that prompted me to change jobs, I was planning to spend the rest of my career at BDO. Over the past few years a number of people reached out to me with job offers and opportunities, but none of these offered the same potential as staying in public accounting. The most recent opportunity was different. The executive team from my new employer shared many details about the company, its prospects, and the importance of the role that I could play. It quickly became obvious that this was not the kind of opportunity that you turn down. To me this is strong evidence of the value of becoming a CPA, working in public accounting, and sticking with your job and buckling down when things get difficult. The accounting, business, and people skills acquired through public accounting are extremely valuable and cannot be learned any other way.
My new job gives me a different perspective on being a CPA, our state society, and the members of the AKCPA. Since I am now in the role of a CPA working in business and industry rather than public accounting, I can see some opportunities for the AKCPA, many of the CPA firms serving Alaska, and CPAs who are employed in business and industry to work together in ways that will benefit each other. In the coming months we will roll out some initiatives that capitalize on these opportunities. I will be reaching out to some of you reading this message, and I look forward to sharing details as we move forward.
In addition to these plans there are many other exciting things going on! Our NextGen AKCPA group is organizing ice cream socials in Anchorage, Fairbanks, and Juneau. NextGen AKCPA is a group that began as an initiative from the first class of our Alaska Society of CPAs Leadership Academy. The group is targeted toward members who are approaching college graduation, or are in the first five years of their career.  Since NextGen is run by people who are fairly new to the profession, it provides not only a great introduction to the field of accounting but also a valuable opportunity to build relationships that will be beneficial throughout people's lives. Looking at where I am today, I can tell you that for me having a strong network of people who help solve problems and provide perspective has been critical.  Many of you have heard the saying, "It's not what you know, but who you know." There is a lot of truth to this statement. Building a strong network with other professionals, then helping others and asking for help will advance you farther than you could ever go on your own. The first step is getting out and meeting new people at events like the NextGen socials!
Additionally, we are moving forward with advances in technology, our relations with the University of Alaska accounting clubs, and considerations for office space. There are many exciting things happening on all fronts! If you know someone who is a CPA, a CPA candidate, or an accounting student, but who is not a member of the AKCPA, tell them they need to stop missing out and apply for membership!
Alaska State Occupational Licensing Fees - Proposed Changes in Regulations
https://www.commerce.alaska.gov/web/Portals/5/pub/CPA-Fees-Notice2015.pdf
AKCPA Board Response to Proposed Changes in Regulations - Licensing Fees:
Alaska State Board of
Accountancy Report -
Amy Cooper, CPA Board Liaison
The State of Alaska Board of Public Accountancy met on July 30-31, 2015 in Fairbanks. Below are a few items to note.
As a reminder, this is a renewal year. Renewal forms are not available yet.
Proposed regulations project. In April, the Board sent out proposed regulations for public comment. I have included the notice sent out to licensees for your information (in case, like me, you don't remember all of the proposed regulations).

Proposed Changes in Regulations – The Board of Public Accountancy (Board) proposes to adopt regulation changes in Title 12, Chapter 04 of the Alaska Administrative Code, dealing with current revised American Institute of Certified Public Accountants (AICPA) Professional Standards and Peer Review Manual references, licensure requirements, education and experience requirements, work experience points, attest functions hours, examination, continuing education, disciplinary guidelines, quality review, and definitions of terms, including the following:
1. 12 AAC 04.010, .030, .038, and .100, is proposed to be changed to adopt by reference the current revised AICPA Professional Standards.
2. 12 AAC 04.165, Application for licensure by reciprocity, is proposed to be changed to alter the requirements for licensure by reciprocity.
3. 12 AAC 04.175, Application for licensure by examination, is proposed to be changed to update the regulation references for license by examination to practice public accounting.
4. 12 AAC 04.180, Documentation of experience, is proposed to be changed to alter the work experience requirements to practice public accounting.
5. 12 AAC 04.181, Work experience points, is proposed to be repealed. The intended effect of this repeal is to conform to the proposed changes in section 12 AAC 04.180.
6. 12 AAC 04.183, Attest functions hours, is proposed to be repealed. The intended effect of this repeal is to remove the 500 attest hours required for licensure.
7. 12 AAC 04.185, Education defined for certified public accountant applicants, is proposed to be changed to alter the provisions related to the approved credential evaluation companies.
8. 12 AAC 04.200, Examination, is proposed to be changed to adopt by reference the current revised AICPA Comprehensive Course, and to amend the examination requirements for certified public accountant.
9. 12 AAC 04.300, Hours of continuing education required, is proposed to be changed to alter the continuing education requirements for renewal of a license to practice as a certified public accountant.
10. 12 AAC 04.310, Computation of nonacademic continuing education hours, is proposed to be changed to alter the computation of continuing education hours.
11. 12 AAC 04.350, Nonacademic program criteria, is proposed to be change to alter the nonacademic continuing education criteria approved by the board.
12. 12 AAC 04.520, Disciplinary guidelines, is proposed to be change to alter the provisions related to disciplinary guidelines.
13. 12 AAC 04.530, Definitions for disciplinary guidelines, is proposed to be changed to further define terms used for disciplinary guidelines.
14. 12 AAC 04.600, Quality review reporting requirements, is proposed to be changed to update the statutory references relating to quality review reporting requirements.
15. 12 AAC 04.610 and 12 AAC 04.620, is proposed to be changed to adopt by reference the current revised AICPA Peer Review Manual.
16. 12 AAC 04.690, Definitions related to quality review, is proposed to be changed to update the statutory references relating to definitions related to quality review.
17. 12 AAC 04.990, Definitions, is proposed to update the authority citation consistent with the statutory amendments made in Chapter 67, SLA 2010.       
The Board, at their May meeting, approved those regulations (there were clarifying edits on 12 AAC 04.180(a) and a reference date change for 12 AAC 04.038 made at the meeting). At the time of the meeting, were on their way to Department of Law and then to the Lieutenant Governor's office for signature. It is expected that the changes will be in affect for this renewal period and made in time for the renewal forms to be changed accordingly.
Fee proposal – At the end of July, the Division of Corporations, Business and Professional Licensing send out a fee proposal. (As a note, this was not a fee proposal made by the Board but rather the division.) The fee proposal was open for public comment until August 31, 2015. It is expected that the new fees will be in affect for this renewal period and made in time for the renewal forms to be changed accordingly.
The Board will be looking at statute changes in the future. It did table the discussion of the change of the 2 to 1 year experience requirement. NASBA is considering recommending states go back to a 2-year experience requirement. The Board will wait to see what happens at the national level.
The next State of Alaska Board of Public Accountancy will be held in Anchorage on November 12th and 13th, 2015. The public is welcome.
NextGen AKCPA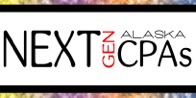 NextGen AKCPA is holding their first Ice Cream social in Juneau where YOU can get the scoop on NextGen! The event is free, and significant others or families are welcome.  Join us and enter to win a $50 gift card to Fred Meyer!
NextGen of Fairbanks and Anchorage, don't have a melt down quite yet! A similar event is being planned for your area as well. Be on the lookout for more information!
 If you would like more information on our events or added to our mailing list please email us at nextgenakcpa@gmail.com
Sarah Villalon, Chair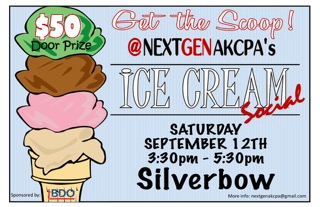 CPA Opportunity
Excellent opportunity for CPA who wants to go out on their own with the added benefit of income security.  Must have tax experience and be able to communicate effectively with clients.  Work is mainly tax prep and planning; business advising small business; etc. with some review and compilation statements.  No audits.  No out of town.  Excellent future potential.  Contact and resume by email only.  Contact Mark Schneiter at s.and.m@gci.net.
CPE Highlights For 2016
Jacque Briskey, CPE Chair      
The CPE Committee recently met to begin the process of planning for 2016 CPE courses. We recognize that the CPE landscape is ever-changing, and we want to be sure we meet the needs of our members as best we can. Along that line, you will soon receive a brief survey through Survey Monkey.  Please take a minute to reply and let us know how AKCPA can be more responsive to the needs of our members.
The Committee also discussed how to make the live CPE courses more interactive and applicable to you, the audience.  One suggestion is to ask instructors to deviate a bit from the manual and outline.  Instead, use the first few minutes to learn about who is in the class and what they want from the course.  Use the course material to focus on those questions, eliciting discussion among the participants, and check in throughout the day to see if those issues are addressed.  In that way, the instructor can skip the areas that are not applicable to Alaska CPAs, and focus instead on the questions we struggle with day to day.
Next year (2016) is non-renewal year for Alaska CPAs, and historically we have fewer CPE participants in a non-renewal year.  We've reduced the number of courses in the schedule to reflect that, but are searching for the best quality instructors for each course so that we still offer excellent CPE at an affordable price.  If you heard an outstanding instructor at conference or other CPE, please let Crista Burson (akcpa@ak.net) know so she can contact them.  
In addition, we are exploring partnerships with other professional groups to jointly offer courses that may appeal to a specific audiences, as well as some other nontraditional CPE options.
If you are looking for a specific CPE topic that is not offered live by AKCPA, check out the AKCPA webcast partners at http://www.akcpa.org/cpe/ .  When you purchase a webcast through the AKCPA website, the Alaska Society receives a revenue share from your purchase.  We will highlight some of those courses throughout the year so watch your Inbox.
Don't forget to look for the Survey Monkey and help us plan a great year of CPE in 2016.
Register NOW To Avoid Class
Cancellations & Late Fees!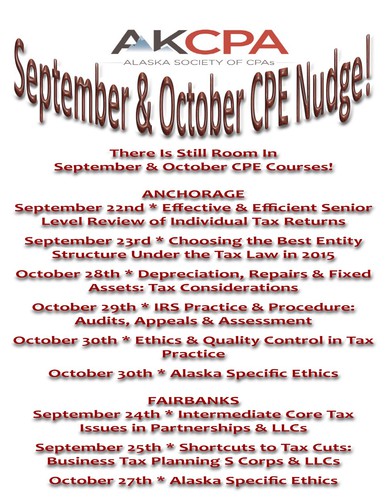 Renew Your AKCPA Membership!
http://www.akcpa.org/members/dues
UAA Accounting Club News
 UAA Accounting Club Newsletter Issue 3
Wolters Kluwer
AKCPA Member Discounts!
Click Anywhere Below To Start Saving Now!