April 2016 AKCPA Newsletter
April 13, 2016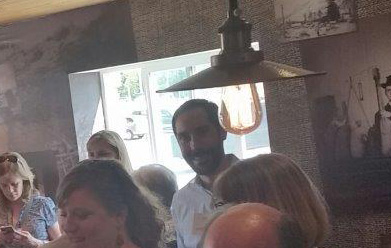 Josh McIntyre enjoying the 2015 AKCPA Annual Meeting. Don't miss your opportunity to join us for the 2016 Annual Meeting!
President's Message
APRIL 2016
As you can see elsewhere in this month's newsletter, we have opened registration for our annual meeting. If you are available, I strongly encourage you to attend. Our meetings and CPE committees have put in a lot of time and effort to make sure this will be a good experience for everyone who attends. I hope to see a lot of our members there. At the annual meeting I will officially move from the role of president to past-president, with Rebecca Martin moving into my current role. The month of April marks the end of our fiscal year.
Looking back over the past year as a state society we have gone through a lot of change. I have to say I am very happy with the direction we are going, and optimistic about the future for our society, our state, and our profession. Right now there are many voices predicting dire times for Alaska, looking to frightening statistics regarding the number of CPAs in Alaska (and nationally), and expressing concerns for the future of state CPA societies.
As a state, Alaska is highly dependent on commodity prices, which are cyclical. We have been through up and down cycles before. If you do a little reading of the history of previous down cycles we are doing better than before, we have learned lessons, and built significant savings. Things may get difficult during the current down cycle, but we will learn, we will do what needs to be done to make our way through. I believe that we will walk away stronger and smarter as a result. 
Many state societies are experiencing concerns regarding membership and traditional sources of revenue from CPE and dues. Compared to most states we have a small number of CPAs and a small state society. In some ways this limits us, and in some ways it allows us to act in a nimble fashion. We can see potential issues on the horizon and change course accordingly. We have cut some of our costs, and we are working on smarter ways of providing services associated with CPE, outreach to CPAs, and to our potential CPA candidates in the state. 
I began the term of president with the benefit of some fantastic initiatives that were started in previous years. Our Leadership Academy and NextGen CPA group are a tremendous source of energy for the AKCPA. We will have two new board members who are graduates of our first leadership academy. This year we have strengthened our ties with the accounting programs at universities in our state. I am very proud to say that we currently have more than 100 student members of the AKCPA, many of whom will continue membership as they leave college and enter the professional workforce. My hope is that we can continue this level of student membership and work for continued coordination between the AKCPA and the accounting clubs at Alaska's universities. As a member of the AICPA, I am happy to see the initiative they have taken in supporting the CGMA as a route for accounting graduates who choose to pursue a career in business and industry. 
I am proud to have been president of the AKCPA, and look forward to my membership and involvement for many years to come.
Josh McIntyre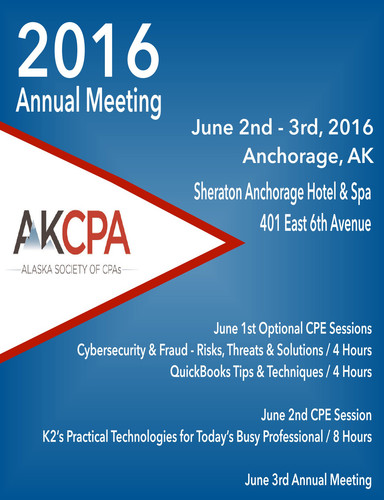 2016-2017 Election Results
Congratulations to the new and continuing Board members!
Election results:
Kara Moore, President-Elect

Jason Bontrager, Treasurer
JoLynn Blancher, Secretary
Thomas Huling, Director
Heather Kephart, Director
Kelly Ward, Director
 Continuing their terms:
Rebecca Martin, President

Josh McIntyre, Past President
Kristine Kennedy, Director
Therese Sharp, Director
Stasia Straley, Director
Also, congratulations to Josh McIntyre who was elected to serve as a Director of the Hagelbarger Memorial Scholarship Fund. 
AICPA Board of Directors Nominations Include 2 Alaskans
The AICPA Board of Directors acts as the executive committee for the governing Council which determines Institute programs and establishes general policies. The Council is made up of elected and appointed members from each of the 50 states, the District of Columbia, Puerto Rico, the U.S. Virgin Islands and Guam. The Board oversees management and organizes the various volunteer committees which report to it.  Melody D. Feniks, CPA, CGMA of Feniks & Company,  LLC in Fairbanks is the first AKCPA member to be nominated to serve on the AICPA Board of Directors. Also nominated is Senator Mark Begich who will serve as a Public Member.
2016 CPE Catalog
You can view the AKCPA 2016 CPE Catalog by clicking on this link:
Exclusively available to AKCPA Members are several Value CPE Options.
Early Registration - Register by June 1st and receive a $50 discount on each 8 hour CPE program and $25 for each 4 hour CPE Program.
Season Pass (for individuals) - You cannot find a better CPE value than the Season Pass for only $1350.  The Season Pass allows you to take up to 48 hours of CPE from June 1st through December 31st. 
Season Tickets (for companies or firms) - The Season Ticket book is only $2500 and can be used to register individual members of your company or firm for ten 8 hour CPE programs from June 1st through December 31st. 
The complete CPE Policies and Information can be found on the society website at www.akcpa.org under the CPE tab.
NextGen AKCPA Newsletter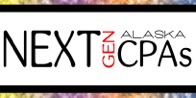 Member Spotlight
Amy K. Cooper, CPA
University of Alaska Fairbanks accounting instructor Amy Cooper will participate in a seminar about how young certified public accountants can be leaders. The seminar will be webcast from 12:30 to 1:30 p.m. (AKDT) on Thursday, April 21.

Cooper is one of two CPAs selected for the seminar by host Barry Melancon, president and CEO of the American Institute of Certified Public Accountants (AICPA). The event will also feature Michael Elliott, a CPA and principal with Dittrick CPA in Burton, Ohio.
The webcast is free. Anyone who is interested can register for the event online. The seminar qualifies for one hour of continuing professional education credit.
Cooper was selected for the AICPA's Leadership Academy in 2012. She was also recently recognized as one of the 2015 Top 40 Under 40 in accounting by CPA Practice Advisor magazine, an award given for involvement in the accounting profession and the local community.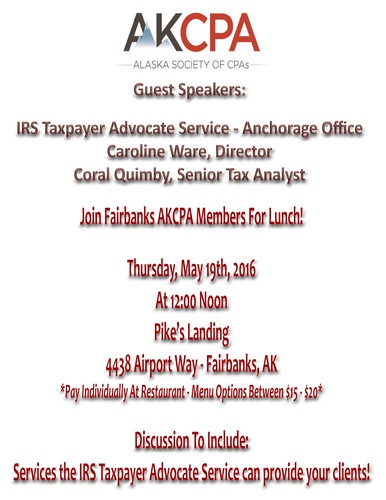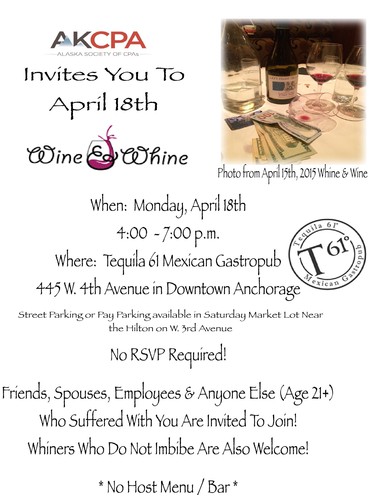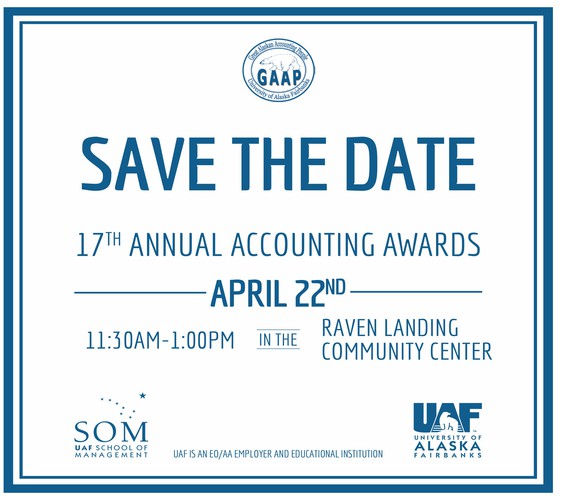 Nominations for Public Service & Distinguished Service Awards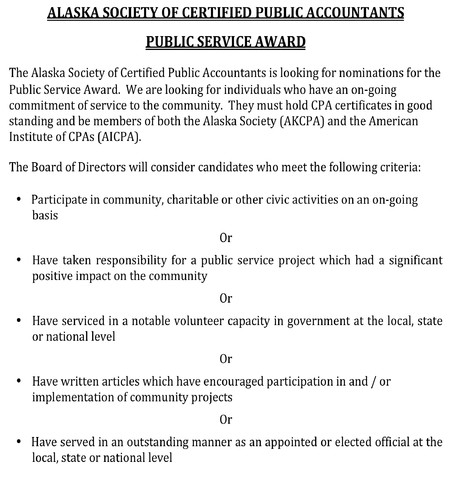 Issue Brief on State Marijuana Laws & The CPA Profession
This issue brief gives an overview of U.S. recreational and medicinal marijuana laws, the current legisltaive/regulatory environment, and information for CPAs considering providing services to businesses that operate in these industries.  Click here to read issue brief...