Spring 2017 AKCPA Newsletter
May 1, 2017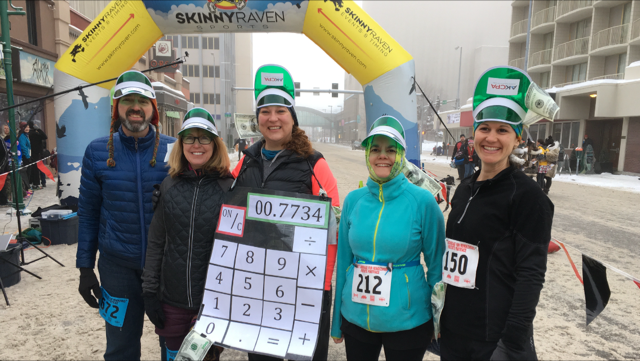 Bill Schmid, Sue Spyker, Rebecca Martin, Louanne Lum & Heather Kephart representing the AKCPA at the Fur Rondy Frostbite Foot Race.

AKCPA members gather at 49th State Brewing Company in Anchorage on April 18th to celebrate Tax Day.
Evelyna Kuhr, Sue Spyker, Bill Schmid, Cathleen Hahn & Jeff Loughrey at April 18th Whine & Wine.
President's Message
SPRING 2017
What a great experience participating in one of the Fur Rondy events – the Frostbite Race on February 26th!  We had 5 CPAs on our team, 2 of them ran the race – Heather Kephart & Louanne Lum, and 3 of us walked – Bill Schmid, Sue Spyker & myself.
We also recently had an April 18th "thank goodness first tax season has ended gathering" called CPA Whine & Wine. Anchorage members met at 49th State Brewing Company on a beautiful evening to enjoy each others company after another year of successfully meeting this deadline.
Heather Kephart and her team on the meetings committee have done a great job to expand our offerings of events that AKCPA membership can participate in.  Recent events included viewing of Love & Taxes at The Bear Tooth Theatre in Anchorage on March 27th and an Industry CPA CPE & Round Table sponsored by AKCPA and KPMG on April 25th. 
If you have an event you would like to be an official AKCPA event in your city, please contact Crista Burson or Heather Kephart for AKCPA assistance, advertising, and coordination.  We would like to see CPAs across our state sporting the "AKCPA" logo.
I'm looking forward to our annual meeting in Seward this year.  We have lots of exciting events planned.  You don't want to miss it!  Here's the link to the details:
CLICK HERE FOR ANNUAL MEETING BROCHURE
Leadership Academy applications are out and were due today. We are extending the application deadline to June 1st! Check out one of our graduates of this program, Thomas Huling, and another fellow Alaska CPA, Sarah Hofkens, in this article:
Nominations are being accepted for our annual awards for Distinguished Service and Public Service.  Please nominate one of your favorite CPAs by May 10th.  Here are the links to both of these awards:
AKCPA Public Service Award Nomination Form
AKCPA Jay A. Ofsthun Distinguished Service Award Nomination Form
Your AKCPA leadership and the legislative committee worked very hard over the past 2 months to slow down HB147 which proposed to make some significant changes to the statutes governing all CPAs.  Please take some time to review the current version of this bill at this link:
The State Board of Public Accountancy will join us for a luncheon in Anchorage on May 11th to discuss these proposed changes.  Plan to attend and bring your comments and feedback with you.  If you are unable to attend this meeting and would like to comment on HB147, please forward your comments to Crista Burson at akcpa@ak.net.
Our plans this summer include working with the State Board of Public Accountancy to make several modifications to HB147 and educating our membership on what these changes mean for us.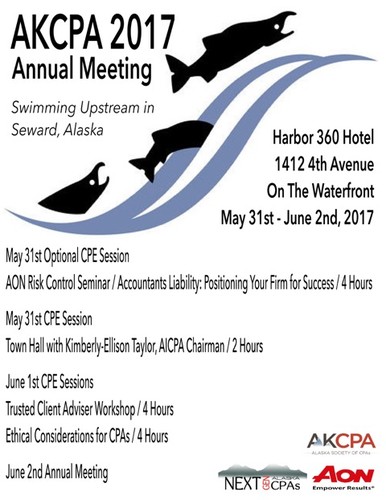 2017-2018 Election Results
Congratulations to the new and continuing Board members!
Election results:
Kelly Ward, President-Elect

Heather Kephart, Treasurer
JoLynn Blancher, Secretary
Kristine Kennedy, Director
Evelyna Kuhr, Director
Mike Richards, Director
Therese Sharp, Director
Stasia Straley, Director
 Continuing their terms:
Kara Moore, President

Rebecca Martin, Past President
Thomas Huling, Director
Also, congratulations to Rebecca Martin who was elected to serve as a Director of the Hagelbarger Memorial Scholarship Fund. 
Annual Meeting Sponsorship Opportunities!
Click on the logo below for all sponsorship opportunities!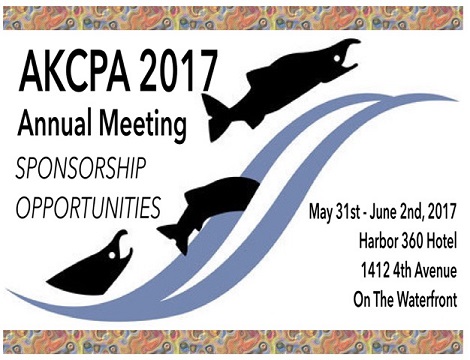 Nominations for Public Service & Distinguished Service Awards Due May 10th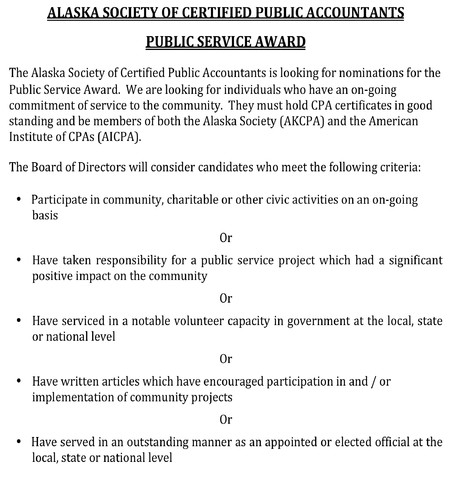 Alaska Leadership Academy
ENGAGE. CONNECT. EMPOWER.
The AKCPA is launching its 3rd Alaska Leadership Academy! The first and second Leadership Academies were amazing sucesses!  Please recommend an emerging CPA star for the Leadership Academy.  The application period is now open and applications will be accepted until June 1st, 2017.
State of Alaska Board of Public Accountancy Report
 Josh McIntyre, CPA – Interim Board Liaison
The State of Alaska Board of Public Accountancy met on February 8-9, 2017 in Juneau. I have to sincerely say "thank you" to the board members, and to Cori Hondolero for their welcoming attitude toward me during this meeting, the emphasis they place on coordinating with the state society of CPAs, and the commitment they show to their duties related to the state board.
Below are a few items to note from the meeting.
Future Dues Changes. Jeff Johnson performed analysis on the financial position and projected future revenues of the state board. Jeff's analysis, which he presented to state employees who make determinations on license fees, supported no fee increase for the next cycle of licensing. The determination will be made by the state mid-summer 2017.
Accounting Statutes. The board worked on statutory language changes that if they are passed into law will align Alaska's statutes and regulations more closely with the Uniform Accountancy Act. Alaska is one of only seven jurisdictions in the United States that has not made these changes. The board agreed to work on creating some documentation that showing what the impact of the changes will be for Alaska CPAs. At this point, the board is seeking legislative assistance to put the statute changes into the form of a bill and introduce it to the legislature to pass into law. I anticipate that there will be more details available in the near future.
AKCPA Luncheon. The board discussed their desire to participate in a luncheon update with the AKCPA during their May meeting in Anchorage.
Representation at AKCPA Annual Meeting. The board also discussed their willingness to send a representative to our annual meeting this year based on the positive results and feedback from attendance in previous years.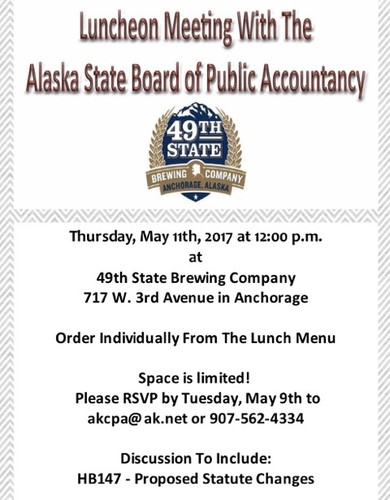 2017 CPE Catalog
You can view the AKCPA 2017 CPE Catalog by clicking on this link:
Exclusively available to AKCPA Members are several Value CPE Options.
Early Registration - Register by June 1st and receive a $50 discount on each 8 hour CPE program and $25 for each 4 hour CPE Program.
Season Pass (for individuals) - You cannot find a better CPE value than the Season Pass for only $1350.  The Season Pass allows you to take up to 48 hours of CPE from June 1st through December 31st. 
Season Tickets (for companies or firms) - The Season Ticket book is only $2500 and can be used to register individual members of your company or firm for ten 8 hour CPE programs from June 1st through December 31st. 
The complete CPE Policies and Information can be found on the society website at www.akcpa.org under the CPE tab.
EDGE Registration Discount
The EDGE Experience registration is live and the AKCPA has an EDGE registration special discount code for members! Just enter the code AKEDGE for a $50 discount when registering!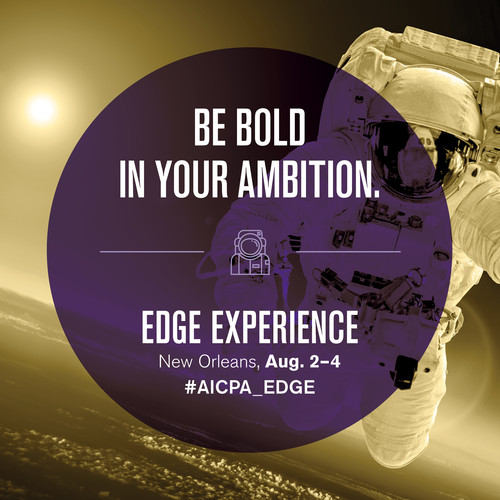 Renew your AKCPA Membership Dues Today!