2015 July AKCPA Newsletter
July 9, 2015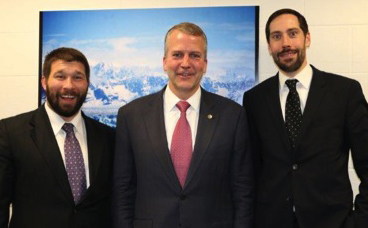 Lance Bodeen (AKCPA Past-President), Senator Dan Sullivan, Josh McIntyre (AKCPA President) pictured following Capitol Hill visits in Washington D.C.
President's Message
JULY 2015
On June 17, our new board met for the first time. I am really impressed with the way the meeting went. There was a great sense of teamwork and it was apparent that the skills of many of the board members complement each other very well.
One thing that came up during open discussion was the suggestion to send thank you notes to all of our Next GEN members. Rather than just a one on one email or note, I want to send a thank you in a public forum. Sarah Villalon, Kelly Ward, Teresa Harris, and Thomas Huling - Thank you! Also, I have to say thanks to the group's advisors, Amy Cooper, and Lisa Turner. There were some questions as to the status of the group within the Alaska Society. Should it be a committee, or subcommittee, or an informal group, or something else? The board voted to make Next GEN a committee. We will work out all of the details, but again I want to say thank you to all involved! This is a very dynamic group of people, with some big potential!
In addition to recognizing Next Gen CPAs, I also want to recognize Diana Lopez from the UAA Accounting Club. Diana attended our meeting, and took notes for UAA's Accounting Club newsletter. My understanding is that the UAA Accounting Club will be sending a member to each of our meetings going forward, and they will report back to the club. I really appreciate the Accounting Club and UAA making this effort to learn more about who we are and what we do. In my career I have learned that getting out and meeting people is a critical part of becoming a well-rounded CPA.
Finally, I want to remind everyone about membership renewals. I know that Crista sent out a reminder recently. As of July 9 there were 164 members from last year who had not yet renewed. If you have not renewed, I encourage you to do so. If you know someone who is a CPA, a CPA candidate, or a student and is not a member, encourage them to join. The AKCPA is not just about signing up for CPE, and going to classes. It is about connecting with others, staying up to date on what is happening in the profession, and making a difference in Alaska. My firm has historically provided more than enough CPE, so really the only CPE I attend is at the annual meeting. The benefit that my membership and involvement has brought to me has been meeting dozens of people through our society. People like Lance Bodeen pictured with me above. People like those running our Next GEN group, students like Diana. A couple of thoughts that I try to live by (although I am far from perfecting them) is that I never learned anything new by being the person talking, and I have never grown as an individual without connecting with others.
I encourage you to take the opportunity to invite others to renew their membership [http://www.akcpa.org/], or join for the first time [http://www.akcpa.org/members/apply]. Use this not only as a chance to help the state society in a year of transition, but to strengthen your connection with others and start a dialog about our profession. 
IRS Liaison Committee Meeting Minutes
June 4, 2015 Alaska Practitioner Liaison Meeting Virtual Meeting via WebInterpoint
Register NOW To Avoid Class
Cancellations & Late Fees!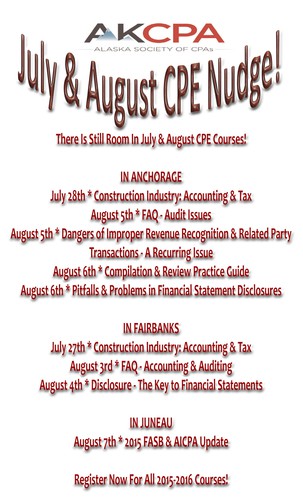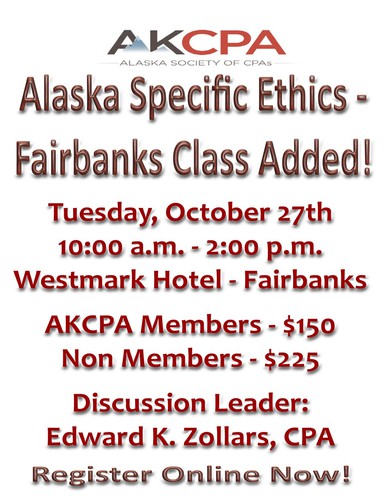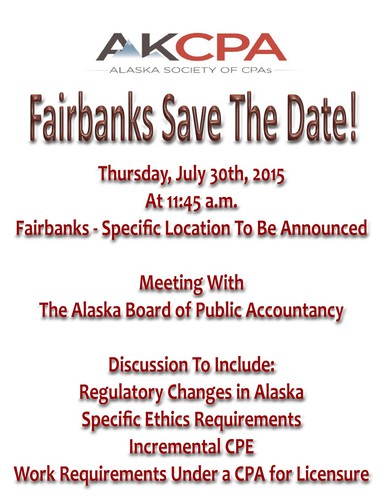 Renew Your Dues Today!
UAA Accounting Club News & Sponsorship Opportunities!
UAA Accounting Club Newsletter