October 2015 AKCPA Newsletter
October 12, 2015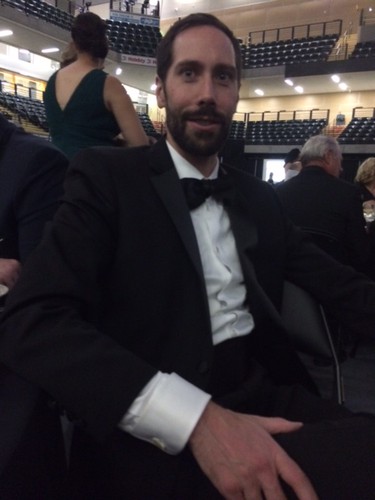 Josh McIntyre attending UAA's Green & Gold Gala.
President's Message
OCTOBER 2015
This past month I was able to connect with the University of Alaska Anchorage in a number of ways. The professor from UAA's Auditing Class invited me to speak about my experiences in public accounting. I served as the AKCPA's representative at the UAA Accounting Club's Fall Social. At the UAA Alumni Association's Green and Gold Gala I enjoyed an evening of recognizing achievements of alumni and fund raising for student scholarships. On the last day of the month, I chaired our board meeting where we welcomed 90 new members, 74 of which were student members, and 68 from UAA.
I am very happy to welcome each of these members. UAA is my alma mater, and my association with the Alaska Society of CPAs started while I was a student at UAA. At the time, Lynn Koshiyama was a professor at UAA and also chair of the relations with education committee. The committee was looking for students who graduated from high school in the Anchorage School District and were now majoring in accounting to go to high schools to talk about their experience, and why they chose the path that they did. I had graduated from Service High School in Anchorage just a few years prior to this, and was happy to be asked to go back and speak.
Prior to this experience I did not really know anything about the state society. I met people from different firms and began to build a professional network. The number of connections between CPAs in Alaska is amazing. It is always interesting to talk with people and hear about their experiences, or hear what some of the partners at firms were like when they were just getting started. I encourage our student members from all universities to look for opportunities to get involved with the AKCPA, and want to encourage existing members to welcome and mentor these students. I would also like to encourage our committee chairs and committee members to look for ways to utilize the skills and perspectives that these new members bring to our state society.
If you want to know what it is like working at a large firm, a small firm, going directly into industry, government, or other sectors from school, there are AKCPA members who can tell you. If you want advice on studying for the CPA exam from people who have been recently successful, we have members who can tell you. If you want to hire students who will be graduating from college in the near future, and need to know what appeals to this group, now we have members who can tell you.
Again, welcome new members! We are honored to have you.
AKCPA Leadership Academy
Class of 2016
Rhonda Bohart

Rhonda is currently a senior accountant at RJG in Fairbanks. She is also a serial entrepreneur.  Her current ventures are in photography and a company called AK EXPLORER.
As an accountant with more than 10 years of experience in both public and private accounting, she's worked with TH&G in Anchorage, RJG in Fairbanks, Bar, Anderson & Roberts in Lexington, KY, and Asbury University. She earned her BA in Business Administration at Mid-America Christian University.  Shortly after that she continued her accounting education at UAA where she was very involved in the accounting club as the fundraising chair. She also participated in the VITA Program where she toured Kodiak Island, preparing tax returns in a different village every day during spring break of 2006.
When she is not at the office helping clients, you can find her with her adorable family; her husband, Ben, son, Justus, and dog, Hope. She loves being outside hiking, running, canoeing, cross-country skiing and photographing people and places. She also loves exploring indoor places like boutiques, trendy restaurants, coffee houses and anywhere art can be found. 
Arianna Haines

Arianna grew up in Bozeman, MT and attended school at Montana State University. She obtained her Bachelor's Degree in Business with a concentration in Accounting and continued on to receive a Master's in Professional Accountancy a year later.
Arianna began her career as a Tax Associate at Mikunda, Cottrell, & Company (MCC) in January 2013. She is still with the company, which merged with BDO USA, LLP in July 2013 and is currently a Senior Tax Associate; She enjoys learning and working with others in her profession.
She completed her CPA exams shortly after beginning her career and is currently working to fulfill the requirements of licensure. In the office she assists with recruiting and training. She has served as a Chairperson of our Women's Initiative, and is currently a Core Values Champion. Outside of work she is a member of Hillside Rotary Club.
In her free time she enjoys spending time with her fiancé, and their energetic dog. She loves fishing and backpacking during the summer and skiing during the winter.
Rachel Hanks
 
Rachel Hanks, EA, MBA, of Warwick & Schikora, PC, a CPA Candidate, has lived in the Fairbanks area for over 26 years.  She has a MBA in Accounting from the University of Phoenix, and a BBA in Accounting from the University of Alaska Fairbanks.  She is an Enrolled Agent and currently works in tax preparation, bookkeeping, payroll, reviewed financial statements, and specializes in IRS representation.  She just completed her Fellow with the National Tax Practice Institute (NTPI) from the National Association of Enrolled Agents (NAEA).   She is currently sitting for the CPA exam this Fall and will sit for the rigorous US Tax Court Practitioner Exam in November 2016.   She belongs to several national and state tax and accounting professional organizations.
Nichole Herbert

Nicole "Nico" Herbert was raised in the interior of Alaska, attending Eielson elementary and North Pole secondary schools. She graduated from the University of Alaska Fairbanks in 2012 with a Bachelor of Business Administration in Accounting and began working at Cook & Haugeberg in January 2012.
Ms. Herbert has performed and served as a team leader for audits, reviews and compilations for nonprofit, for-profit and governmental entities including both federal and state single audits. Her tax experience includes income tax accounting, preparation and research for a variety of exempt organizations, corporate, partnership, individual, trust and estate returns. In addition to her accounting experience, Ms. Herbert came to Cook & Haugeberg with an IT background. Her prior work experience included maintaining and administering computer networks, resolving hardware, software and other network related problems and answering user inquires.
She is the Secretary of Midnight Sun Fly Casters, a fly fishing and fly tying club, known for their annual Kids Camp. She is an affiliate member of the AKCPA and serves on the AKCPA Fairbanks Meeting Committee.
Audrey Lance

Audrey Lance was born and raised in Colorado where she attended the University of Northern Colorado. She transplanted to Alaska in 2011 where she continued her public accounting career and joined Thomas, Head & Greisen. Since then, she has become a Certified Public Accountant licensed to practice in Alaska. She enjoys working with non-profit organizations on their tax and auditing needs. During her spare time Audrey enjoys photography, knitting, and spending time with her husband.
Margarita Pelkhe

Margarita Pelkhe began her public accounting career at Thomas, Head & Greisen in January 2014, where she currently provides auditing, tax and consulting services to clients. With her she brings two years of not-for-profit industry experience. She is a cum laude graduate from the University of Alaska Anchorage earning a Bachelor of Business Administration in Accounting. She is a member of the Alaska Society of CPAs and the Institute of Internal Auditors. Margarita is a longtime Alaskan and enjoys hiking, traveling and spending time with family and friends.
Abigail Riggs

Abigail Riggs is a Koyukon Athabascan from Tanana, Alaska. She graduated from the University of Alaska Fairbanks with a bachelors degree in accounting in 2010 and went on to earn her MBA from UAF in the fall of 2011. She has worked at RJG, A Professional Corporation since 2010 and earned her CPA license in 2014. Before joining RJG, she completed two years of summer internships at IBM in Burlington, Vermont and one summer internship at Doyon Foundation. She is married to Rob Riggs, and together they have two children Timothy, 8 years old and Adrianna, 3 years old. She loves to camp, berry pick, fish, play soccer, and spend time enjoying Alaska with her family.
Katelynn Senn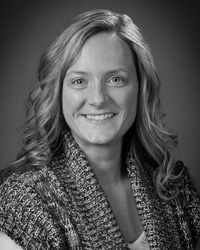 Katelyn joined Rulien + Associates, LLC in September of 2007 and became an owner in the firm in June 2014. Katelyn is committed to making sure the client's business succeeds. She does this by providing high quality customer service in tax planning, accounting services, and tax preparation for corporations and individuals. This includes preparing financial statements, managing our tax & bookkeeping department, providing consulting on accounting systems, and assisting in payroll functions.
Katelyn specializes in QuickBooks accounting software and provides consulting not only to our staff but to all of our clients as well. Katelyn specializes in the area of small business, construction contractors, medical practices, and professional service organizations.
Katelyn is a graduate of the University of Alaska Anchorage and holds two Bachelor degrees, with dual majors in Accounting and Management. She began her career in accounting in June 2004 by training as a Bookkeeper with a small firm in Eagle River, Alaska. She is a certified QuickBooks ProAdvisor and is well versed in many other accounting software programs, including Peachtree, Creative Solutions, and Master Builder. Katelyn is a member of the Alaska Society of CPAs and the American Institute of CPAs, and has earned her certification as a registered tax return preparer.
Adam Sycks

Adam was born and raised in Anchorage.  He attended the University of Idaho where he received a Masters of Accountancy degree in 2010.  Adam moved to Juneau after college and has been working for the CPA firm Elgee Rehfeld Mertz in Juneau since then.  He received his CPA license in the spring of 2015.  When Adam is not working he enjoys playing hockey and hiking and camping around Juneau.
Sam Thompson

Sam has more than 5 years of audit experience with BDO USA LLP (formerly Mikunda, Cottrell & Co.).  His work focuses on Alaskan cities, boroughs, and State of Alaska component units.
Specific experience includes:
Planning, performing, and supervising fieldwork for assurance engagements conducted in accordance with Government Auditing Standards, OMB Circular A-133, Audits of States, Local Governments, and Nonprofit Organizations, and State of Alaska Audit Guide and Compliance Supplement for State Single Audits.
Expertise in Federal and State grant compliance and reporting, internal control assessment, and financial reporting requirements in association with the Governmental Financial Officers Association (GFOA)'s Comprehensive Annual Financial Reporting program.
Sam serves as the treasurer for a local not-for-profit arts & health organization.
Sam is a graduate of Western Oregon University.
Leo Wassilie

A lifelong Alaskan, Leo was born in Bethel, Alaska but grew up in Seward playing baseball and basketball. He graduated high school and started college in Oregon before finishing college and earning his BBA degree in Accounting at UAA.  Leo worked for Deloitte & Touche, LLP right out of college, before gaining nonprofit and corporate accounting supervisory experience at various organizations and businesses.  After working for his grandfather for 8 years, he came back into public accounting working with Swalling & Associates, PC for the past year.  Leo plans on passing the CPA exam within the next year.  He is a father to a 14 year old daughter, Isabelle, and 3 year old son, Bruce.  Leo enjoys camping and fishing in the summer.
NextGen AKCPA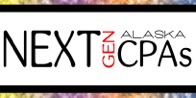 NextGen Fairbanks hosted their first fall "Sweet Social" featuring a small dessert bar on September 12th at the Cookie Jar Restaurant. In attendance were 16 emerging leaders, a mix of both professionals and students. The social allowed for an informal meet and greet for those in the Fairbanks region, and to promote NextGen. Many of those who attended expressed interest in what NextGen has to offer, and are looking forward to the next event. A special thank you to those who were able to join us, your feedback is essential to our growth and success.
If you would like to be added to our email list, please email us at nextgenakcpa@gmail.com.
Sarah Villalon, Chair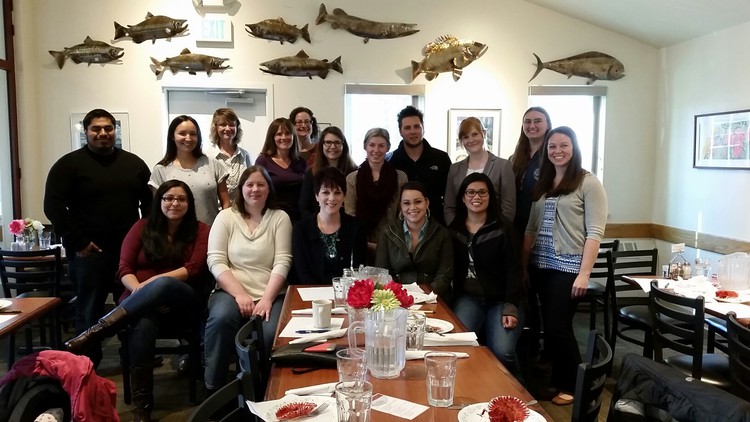 The Juneau NextGen "Sweet Social" took place on September 12th at Silverbow and went well.  It was a small but good group.  Attending were four young CPAs and three accountants studying for the CPA exam as well as a several spouses. 
Theresa Harris, NextGen Juneau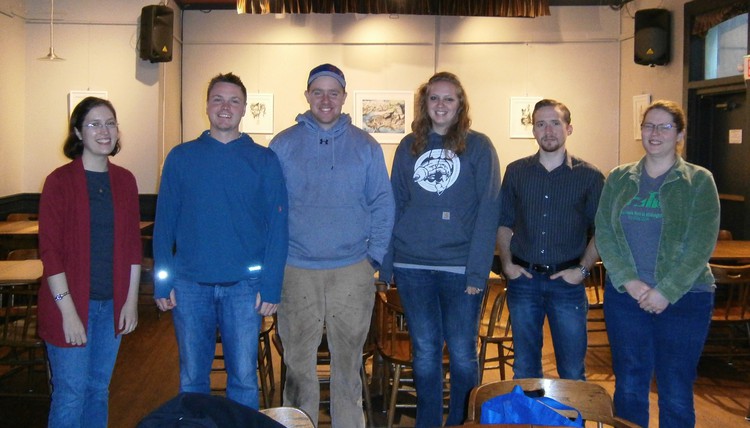 CPA Practice For Sale
This turn-key Anchorage practice for sale after 2016 tax season has annual gross revenues of about $390,000. It is a well-established practice of 30 years that has been providing quality tax and accounting services in the diverse Alaska market. Revenues are steady and mixed between tax work (70%), bookkeeping (15%) and other services (15%) to provide year-round income. The loyal client base composed largely of business and business owners, should continue to be an excellent referral source and provide opportunity for growth through expansion of services. The practice has a strong fee structure and produces solid cash flow to owner near 40% of gross. There is qualified staff in place at an established CPA office and seller is willing to work with buyer through a reasonable transition period.  Asking price is $400,000. Inquiries should be directed to veronica@wcfcpa.net.
Register NOW To Avoid Class
Cancellations & Late Fees!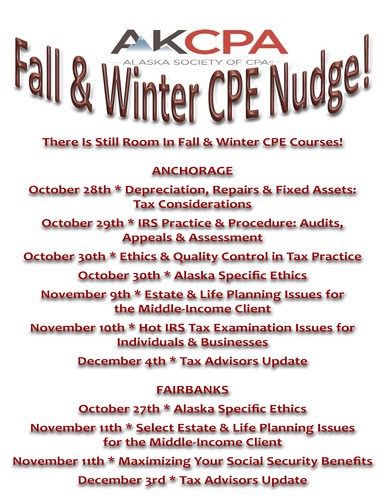 Members In The Spotlight
AKCPA Members, Theresa Harris, Amy Cooper, Kelly Ward & Sarah Villalon at AICPA EDGE conference in San Antonio, Texas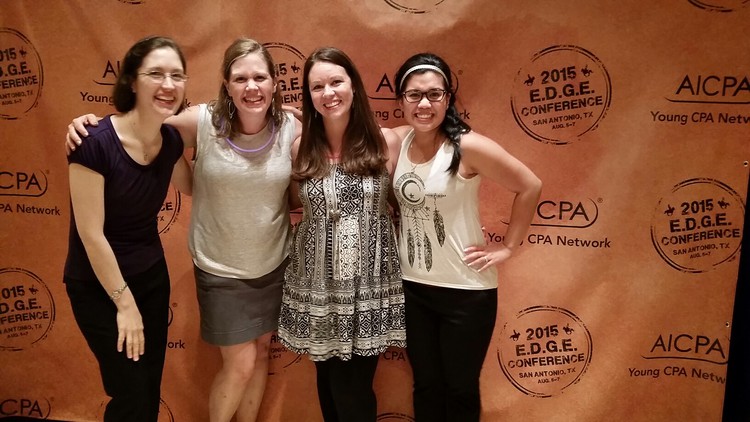 CPA Practice Advisors's September 2015 Issue Features AKCPA's
Amy Cooper as one of their 40RTY Under 40RTY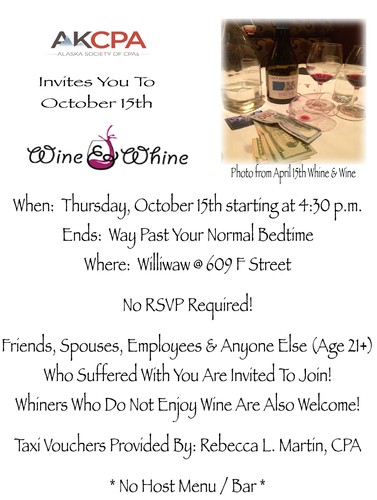 2015 IRS SYMPOSIUM
November 13, 2015 ~ Lakefront Hotel (formerly the Millennium) 4800 Spenard Road, Anchorage
Registration is available online at
www.asiacct.org
or you can contact Barb at
ak.soc.of.ind.accts@gmail.com
for a registration form.  Fee:  $29.00    
Alaska Bar Association Classes

Managing Office Clutter:  Create More Time for Clients and Cases and Blast Away Procrastination: Attend to Clients Now both offered on November 6th.  To register follow this link, select the event you would like to attend and setup an account to register: Alaska Bar Association
Renew Your AKCPA Membership!
http://www.akcpa.org/members/dues
UAA Accounting Club News